Quicker Help, Deeper Change -
Revolutionizing Mental Health Care
Mental health is an important part of life. Cognitive behavior therapy (CBT) is a powerful approach that has been proven to help individuals cope with the challenges of depression, anxiety, and other disorders. It is a great choice because it involves identifying and understanding automatic thought patterns, developing positive coping strategies, and learning to reframe negative thoughts.
We developed a mobile app with cognitive behavior therapy tools, and content that includes articles and videos to further educate individuals about CBT, meditations, depression, and anxiety diagnostics and data sharing with mental health providers. Our diagnostic tools allow clients to track the history of their depression and anxiety and measure their progress over time.

Cognitive Behavioral Therapy Tools
To help with the therapeutic process, we offer a variety of cognitive behavior therapy tools including the Automatic Dysfunctional Thoughts Test and the Coping Card tool. Additionally, we provide meditations to help individuals find peace and relaxation.
The Automatic Dysfunctional Thoughts Test guides the client through a process of identifying activating events and related emotions, feelings, and automatic negative thoughts. It then allows the client to question these thoughts and come up with more realistic and helpful ones. This tool also has time-based and geolocation reminders to help the needed therapeutic effects happen faster.
The Coping Card tool is designed to provide a quick way to go from an automatic negative thought to a more positive one or to help with other quick activities like building new habits. As with the Automatic Dysfunctional Thoughts Test, the Coping Card tool also offers time-based and geolocation reminders for faster changes.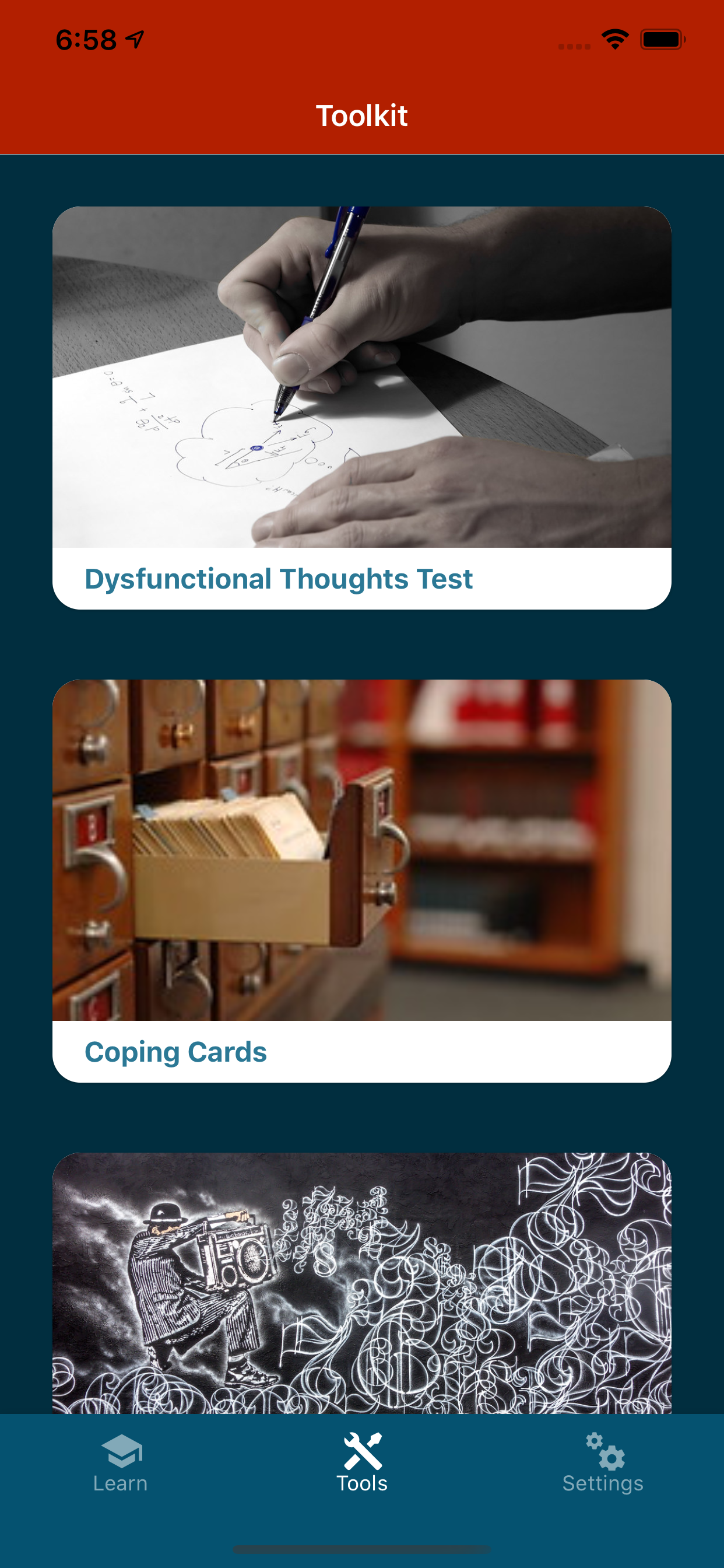 Insights and Therapy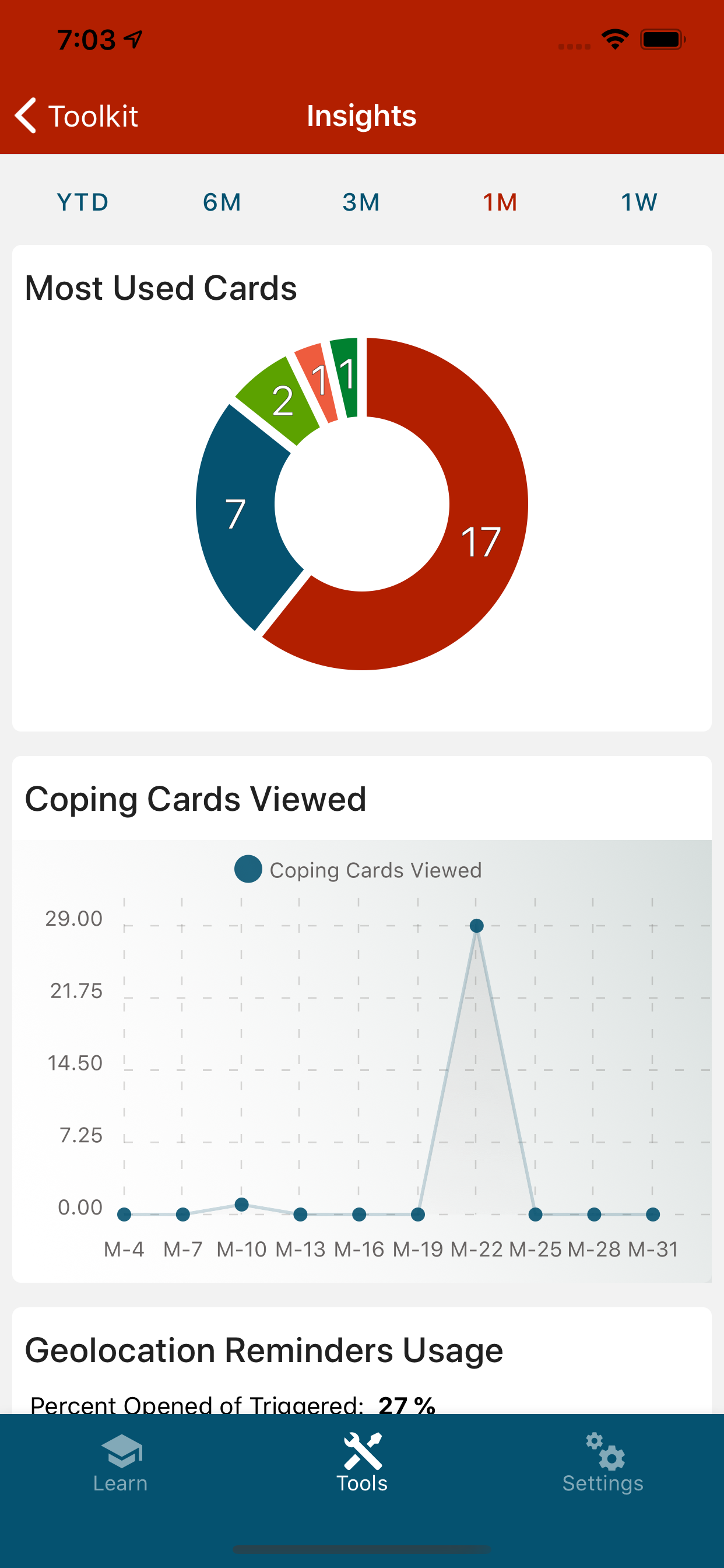 Our mobile app provides clients with statistics that track how they use our tools and app. We provide insight into cards created, most-used cards, reminders, and notifications usage.
Finally, we offer clients the ability to share data with mental health providers. This can be done through our therapeutic platform, which is connected to the mobile app. Our platform is ideal for teletherapy sessions, with CBT tools that can be used by mental health providers being the same as the ones in the mobile app. The tools go a level beyond typical video telehealth sessions while still being available from the comfort of clients' own homes.

Mental Health Providers
Our Platform for Mental Health Providers offers cognitive behavior therapy (CBT) tools for both telehealth and in-person sessions and is HIPAA compliant.
Our platform is a great way to extend your services. We receive hundreds of mobile app downloads and many of these users look for therapists that can use our app in their treatment process. Consequently, we provide practitioners with referral opportunities as part of our commitment to serving our mobile app users and providers best. Our providers can grant unrestricted Premium access to our app to their clients.
One of the most powerful features of our platform is the ability to access detailed information about your clients' mobile app usage, including results from depression and anxiety tests, as well as insights into how their symptoms are changing over time.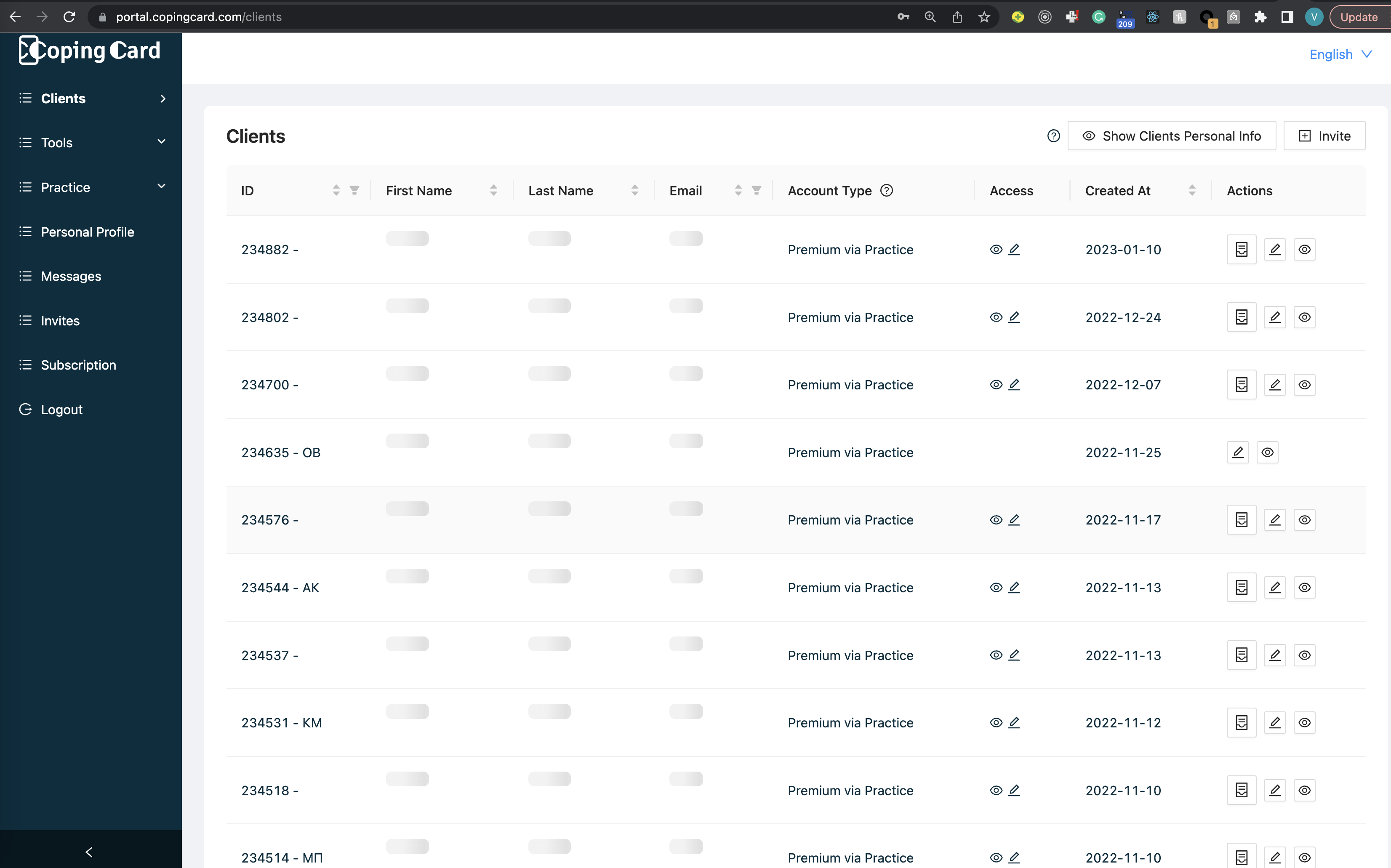 We also offer a number of CBT tools, e.g. an Automatic Dysfunctional Thoughts Test tool that guides clients through a process of identifying activating events, related emotions, and automatic negative thoughts, and helps them question them and come up with more realistic and helpful thoughts. This tool can be used during telehealth sessions to enhance the therapeutic effects.
With CopingCard, you can provide comprehensive, evidence-based care to your clients, no matter where they are. Sign up for our platform today, and start growing your practice and improving the outcomes of your telehealth sessions, while ensuring the safety and security of your client's personal information.